International Journal of Sustainable Building Technology (IJSBT)                                                                                           
                                                                         Click here for complete Editorial Board
International Journal of Sustainable Building Technology (IJSBT): It provides a platform which publishes high quality manuscripts from the field of climate responsive architecture, traditional wisdom and sustainable concepts, energy audit & environmental impact assessment, alternative materials and technologies and various areas related to the sustainable building technology. It's a biannual journal, started in 2018.
Journal DOI no.: 10.37628/IJSBT
Indexed in: Google Scholar
Readership: Graduates, Postgraduates, Research Scholars, Faculty
Focus and Scope Cover
• People, Environment and Buildings
• Traditional Wisdom and Sustainable Concepts
• Energy Audit & Environmental Impact Assessment
• Environmental Codes and Energy Ratings
• Sustainable Built Environment, Issues and approaches
• Industrial Environment
• Alternative Materials and Technologies
• Eco-Cities
• Eco-Sensitive Accessories & Green Products
• Water and Built Forms
• Sustainable building management
• Planning and Design of Sustainable Building
• Climate responsive architecture
Submission of Paper: 
All contributions to the journal are rigorously refereed and are selected on the basis of quality and originality of the work. The journal publishes the most significant new research papers or any other original contribution in the form of reviews and reports on new concepts in all areas pertaining to its scope and research being done in the world, thus ensuring its scientific priority and significance.
Manuscripts are invited from academicians, students, research scholars and faculties for publication consideration.
Papers are accepted for editorial consideration through email [email protected] or [email protected]
Abbreviation: IJSBT
Frequency: Two issues per year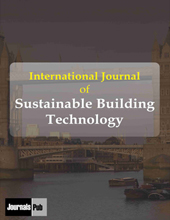 Publisher: JournalsPub, an imprint of Dhruv Info Systems Network Pvt. Ltd.
Address: A-118, 1st Floor, Sector-63, Noida, Uttar Pradesh-201301, India
Phone no.: 0120-478-101/ Email: [email protected] or [email protected] or 
Announcements
No announcements have been published.
Vol 5, No 2 (2022)

Open Access

Subscription or Fee Access
Table of Contents
Articles
| | | |
| --- | --- | --- |
| | Kanika Gupta, Shruti H Kapoor | 1-10 |
| | | |
| --- | --- | --- |
| | Mohammed Aliyu, Haruna Hussain, Isa Abdulkadir Abdulkadir | 29-45 |
| | | |
| --- | --- | --- |
| | Barsha Kunda, Kasturi Borah | 46-50 |